Tang soo do Championships Sat 17th Sept & Master Deedigans Inter school Championships Sun 18th Sept.
18 students took part in the Dragon Tang Soo Do Championships in Bristol. A mix of Tang soo do, Taekwondo, Karate, Kickboxing and Aikido took in the days events of team forms, individual forms, weapon forms and sparring. Team Forms – Ellie, Elysia & Max took 1st Place in low grade team forms and Jake, Marcus & Adam took 3rd place in the same division. Jordan, Lydia & Charlotte took 1st place in senior colourbelt team forms and Imogen, Abi & Chris took 2nd place in the same division. Mr Churchward, Mr Creber & Mr Moore took 1st place in blackbelt forms and the overall team form grand champion.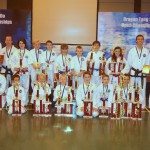 Weapon Forms – Jordan won Gold, Lydia won Silver and Imogen & Max won Bronze in their divisions. Individual Forms – Zach, Jordan & Elysia won Golds. Lydia, Emma, Max, Jake & Ellie won Silvers and Charlotte won Bronze. Sparring – Mr Whitford, Zach, Emma, Imogen, Abi & Jordon won Golds. Elysia & Marcus both won Silvers and Chris won Bronze. Overall Best Junior was Jordan with 4 Golds, who received the grand champion trophy. Overall result of 38 medal/trophy positions made up of 20 Golds, 11 Silver and 7 Bronzes. Outstanding effort by everyone on the day and a real team effort.
The following day 25 students took part in Master Deedigans Inter school championships in Trowbridge near Bath. This was a Taekwondo competition with different TKD schools from all over the south west taking part in the days events of forms, sparring and 2 special agility events, long kick & high kick. Long Kick – Jake, Jordan and Chris all won gold in their height divisions. High Kick – both Jordan and Imogen won gold in their height divisions. Forms – Mr Moore, Lydia, Chris, Max, Abi, Jake, Andy, Melissa, Owen all won Golds. Miss Dunne, Imogen, Elysia, Charlie, Anthony, Ciona and Caitlyn all won Silvers. Ellie, Charlotte, Steve, Joe and Adam all won Bronzes.  Sparring – Imogen, Chris, Ellie, Abi, Jake, Emma, Joe and Andy all won Golds. Mr Moore, Elysia, Charlotte, Antony, Alex and Charlie all won Silvers. Jordan, and Adam both won Bronzes. Overall result of 42 medal positions made up of 20 Golds, 11 Silver and 7 Bronzes.
A long but, fantastic weekend of competitions. Welldone to all those who part in the weekends events.
So who's looking forward to the British Championships next in Reading?