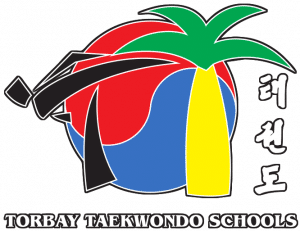 Torbay Taekwondo Schools also known as Torbay TKD was started on the 2nd October 2000 by our international instructor Mr Grant Churchward. The main school is based at Torbay Leisure Centre in Paignton with satellite schools around Torbay.
The creative idea behind our logo (shown on the right) was to emphasise our location, the origins of our martial art and the journey a student takes to achieve their black belt. Our logo is therefore made up of a palm tree representing sunny Torbay, and a ying yang (eum yang) representing the South Korean flag, while each colour represents a belt.
We cater for all those in our community from people looking for fun & fitness to elite athletes. Our classes are split down to cater for individual needs and we offer a wide range of classes from mixed family classes to age and grade specific classes.
Torbay Taekwondo schools has become one of the top Taekwondo schools in the UK. We have trained several students who have become British, European and World champions. We continue to prove to be one of the top Taekwondo schools in Competitions and from our Grading results.
Attitudes are contagious is yours worth catching?
Our school moto is "Attitudes are contagious is yours worth catching?".
Torbay Taekwondo are members of these organisations
Torbay Taekwondo are members of the International Taekwondo Federation, United Kingdom ITF, UK Sport and the British Taekwondo Council.
What do we teach?
Our classes include instruction in Taekwon-Do, Kickboxing, Freestyle forms, Practical Self-Defence, Sparring, Weapons, Stretching, General fitness training, Padwork, Stress / Anger Management and most importantly having fun, which will ultimately lead to an increase in self-confidence and overall fitness.
What types of classes do we offer?
Beginners Only
Intermediate Grades
Children Only
Adults Only
Advanced Grades
Mixed Grade Groups
Blackbelts Only
Mixed Age Groups
For a full list of classes we offer see our classes page.
If you would like any further information about our club, or which classes are best suited for you, please Contact Us. Alternatively why not visit our Venues page and just come along and enjoy your 1st month for free.