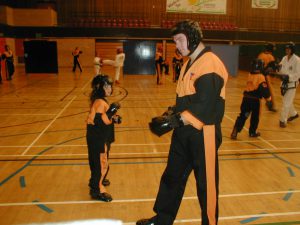 Our mixed / family classes provide the perfect setting for all members of the family to be able to train at the same time. These classes are valuable for all Taekwondo students as they provide the greatest opportunity to train with students of all sizes and abilities.
To become an effective martial artist, you should be able to effectively deal with opponents of various builds, sizes, strengths and weakness. Therefore while these classes are primarily designed to allow families to train together, they are also ideal for all students to practice together.
These classes can cover patterns (forms), self defense, sparring, pad work and fitness training. While progressing through the grades students will learn courtesy, integrity, perseverance, self control and indomitable spirit.