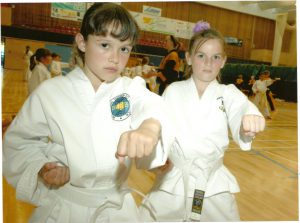 Torbay Taekwondo's beginner classes allow students with no prior Taekwondo or martial arts training to gain confidence and learn the basics. This allows the instructor to go at a slower pace allowing new students to gain a solid foundation on which to take root.
Torbay Taekwondo beginner Junior classes run at our Paignton and Torquay venues.
Our Junior classes are designed to be first and foremost fun structured sessions for kids aged between 7-15 years old.
We teach the core basics of our Taekwondo syllabus along with discipline and respect through games, exercises and group activities.
The classes are structured friendly classes designed to give an introduction to the basics of Taekwondo while building confidence, self-esteem and fitness.
As your child grows the kids syllabus gradually get harder by continually introduce them to new techniques and moves ready for their transition to their next belt via a test called a Grading.
Everything is carried out with your childs safety in mind that's why all our instructors are CRB enhanced checked, first aid trained and has undertaken BTC's instructor training course.
Our Beginner Junior Taekwondo classes cover:
Basics stances. So the children know how to stand strong and correct.
Correct hand and foot positions. So they don't injure themselves when performing techniques.
Basic patterns and line work which form the foundation on Taekwondo.
Simple pad drills to get them use to striking something correctly with hands and feet
Simple self-defense.
Touch sparring introduces them to sparring though fun games.
Fitness and exercise to encourage a healthy lifestyle.
Classes run every Monday 5pm at our Paignton venue, Thursday 6.00pm at our Paignton venue, Friday 6.30pm at our Torquay venue.
All children are welcome to come and try our kids classes with their first months training sessions free of charge. We will then discuss with the parent how we think the child got on and the suitability of the class for the child.
Parents are welcome and encouraged to stay and watch what we do during classes, this will also give you time to talk to a member of our team who will answer any questions you may have and to talk to other parents.